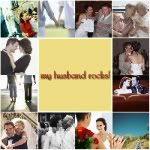 This month, the routine at our house has been pretty much the same. We're out of the house by 7:45 am to catch the train. When I get out of work, I either run to the gym or run errands and finish just in time to to meet Mark at the train a little after 6 pm.
Then, I sit down to write while he makes dinner, cleans up and watches TV or whatever else is on the agenda for the evening. Every night, rather than complaining about everything falling on him, he encourages me to write and asks how my story is going.
It means the world to me that he understands how much I love to write and is willing to take on some extra work to let me spend November with my fingers glued to the keyboard, again. He rocks.