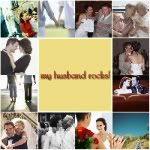 I love that Mark is always super supportive of my writing. I write a lot. Besides this blog, I keep journals on LiveJournal and Kiwibox, write and edit for KB and participate in NaNoWriMo. It takes up quite a bit of time, but Mark has never once complained.

He makes dinner while I try to hit my NaNo wordcount for the day. He doesn't mind me editing while we watch TV in the evening. He even helps me with the writing occasionally - lending expertise on fantasy football when I'm writing a how-to article or spending time playing video games with me when I need to review them.

I know me writing wouldn't be where it is today without his support and encouragement. He rocks.